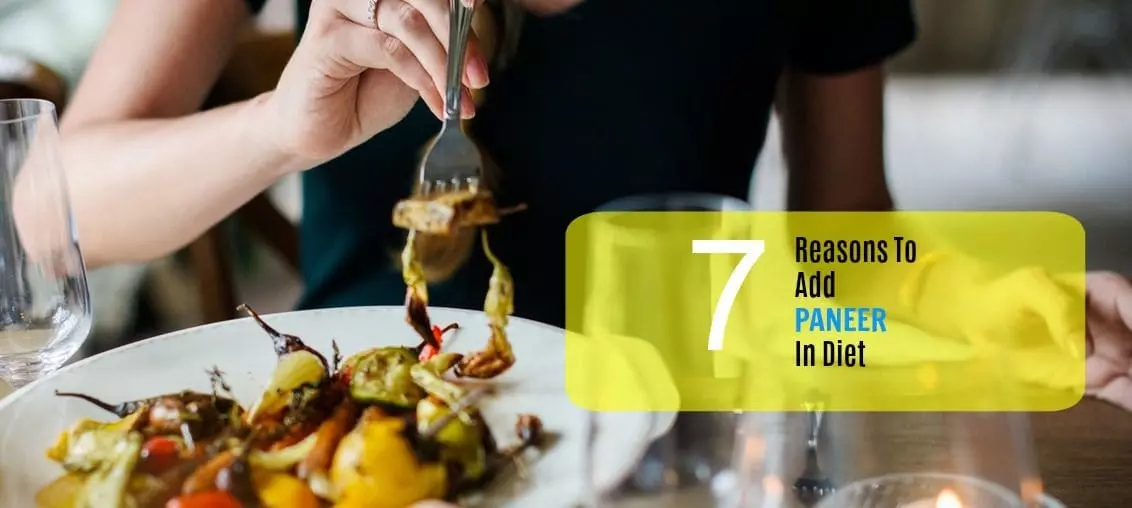 Paneer, as it is made from milk, contains many nutrients and thus has multiple benefits. Different paneer recipes require different forms such as crushed, diced, cubes, blocks, etc. Much like potato, it tastes good in all types whether fried, sauteed, grilled, etc. what's more? It's good for fitness. Let's take a look at why you should make different paneer recipes to your diet and what are health benefits of paneer?
Aids in weight loss:
The dairy-based product contains CLA i.e. Conjugated Linoleic Acid which helps in increasing the metabolism in the body. This helps to lose weight. There are different kinds of meat which also contain CLA. But these meats also contain excessive amounts of fats. So compared to these, this dairy product is a better option.
Strong teeth:
The calcium in the dairy-based product helps to maintain the strength of bones and teeth. Apart from calcium, it also contains vitamin B which is important to absorb the calcium which the body receives. Calcium is extremely important mainly for kids and old aged people and thus, they should consume paneer.
Healthy hair:
One of the main nutrients in the milk products is protein. Protein is important for the wear and tear of the body and also for the maintenance of hair and nail. This is why a majority of shampoos and conditioners are enhanced by adding protein. Apart from the hair, protein is also useful for building up muscle mass. 100 gms of paneer contains a whopping 18 gms of protein. For people who want to gain muscle mass but do not eat any kinds of meat, this product is a good option for them.
Good for people with diabetes:
The dairy product is high in protein but low in carbohydrates. Thus, it does not cause a surge in blood sugar levels. As mentioned earlier, 100 gms of the dairy product contains 18 gms of paneer, whereas the same amount contains only 1.2 gms of carbohydrates, this makes it a good alternative also for people suffering from diabetes.
Other Benefits:
Cheaper alternative:
Meat is generally known as the source of protein and is expensive. Paneer price per kg is approximately around Rs. 300-500. This price per kg is relatively cheaper than the other protein sources, like meat.
Reputed Brands:
Top brands like Amul Paneer, Chitale, etc go through stringent quality tests. They ensure that consumers receive the freshest products.
Tasty recipes:
As we have already said, the dairy product tastes good in every form. There are a lot of paneer recipes one can make with various form of the product like normal or malai. The paneer price per kg for each variant is also different. One can also make paneer soft at home. How? Click here.
So, don't think twice. Add milk products to your the daily diet and gain all these benefits. It is also recommended by many nutritionists, that a person should consume all nutrients in the right amount, not even one should be left out of the daily consumption. The nutrients we fret the most, we tend to cut them out from the daily diet.
But these nutrients, for e.g. fats, calories or carbohydrates, up to the right amount are also important for the body. Fats are extremely important for the development of the body and brain whereas good carbohydrates are used to make glucose and glucose is the main energy source for the human body.
Calories are also used by the body to be converted into energy. Because in this fast-paced life, balancing at least the nutrients in the daily meal is the most important thing. Consuming a balanced diet helps you go through the day and keeps you healthy. And of course we all have heard, health is the first wealth.
Buy Paneer Online
Buying paneer from the nearby dairy store may indulge risk of adulteration. The shopkeepers are not aware of how to store milk products at a particular temperature. Thus one can move to buy paneer online. Online shopping of milk products provides you with the choice of selecting from the diverse varieties of milk products. These shops sell milk products which have gone through various quality taste. One can buy paneer directly from their home and get it home delivered at free of cost.
Hence buying milk products online is the best option for you. It provides you with the best option to fulfil your daily needs.