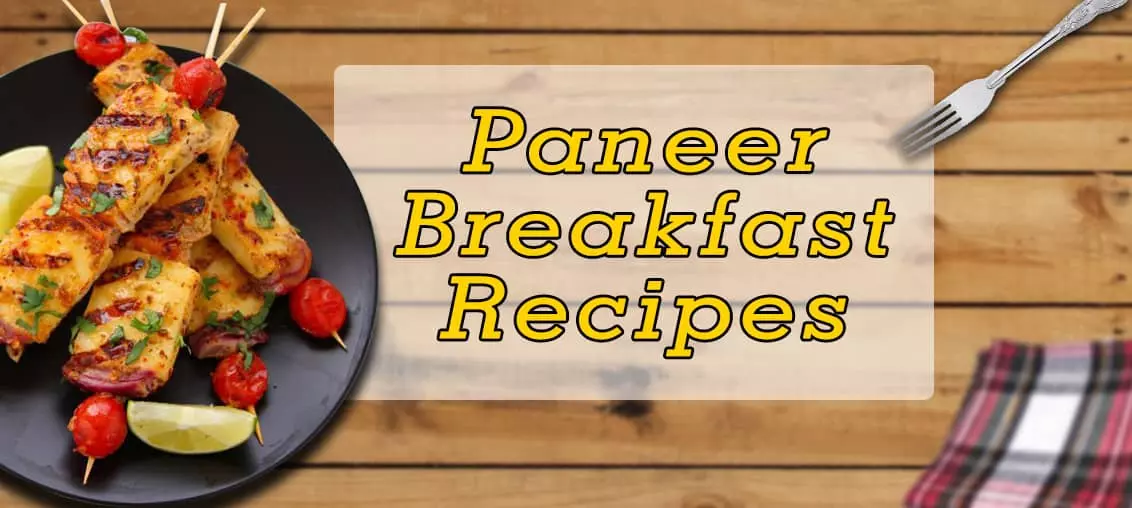 Paneer, a perfect breakfast food refers to the indigenous variety of rennet-coagulated, small-sized, soft cheese. It acts as a superfood for you. From morning breakfast to the candlelight dinner, paneer can always make your day. Paneer is a type of fresh cheese that can be easily made at home. Today, here we are guiding you with some best paneer recipes for breakfast which can be made on a quick basis and healthier for you as well.
Paneer Cheese Toast
Duration – 20 minutes (5 minutes for preparation and 15 minutes for cooking)
Ingredients –
¼ cups crumbled paneer (240 ml cup)

½ tbsp cumin

1 onion (chopped)

1 green chilli (chopped)

1 tomato (chopped)

1 tbsp oil

½ tbsp garam masala

½ tbsp red chilli powder

¼ tsp turmeric powder

½ tbsp Kasuri methi

1 tbsp ginger garlic paste

Bread – ¾ slice

Butter – for toasting

150-200 gm mozzarella cheese (grated)

Salt – as needed

Coriander – as needed (chopped)

Chutney or ketchup – for serving
Procedure –
Heat a pan with oil and add cumin to it.

When they begin to sizzle, add chillies, onions and saute them until the onions turn golden.

Add ginger garlic paste and fry till unrefined smell goes away.

Now, add tomatoes, turmeric and sprinkle salt as needed. Saute, until it turns mushy and spongy.

Add garam masala, red chilli powder and then paneer. Mix them well.

Add coriander, Kasuri methi and keep sauteing for a minute. Turned off the flame.

Spread butter on one slide of bread and place it on a pan.

Then add on hot paneer bhurji and grated cheese over the bread.

Cover it with a lid and toast on low to medium heat until the cheese melts.

Serve with green chutney or ketchup.
If you want to make it as a sandwich –
Add one more bread slice over the cheese and place it in a toaster. Served, when it will turn into gold.
Achaari paneer
(Duration 15 minutes)
Ingredients –
Paneer – 1 cup (small cubes)

fennel seeds – 1 tbsp

mustard seeds – 1 tbsp

fenugreek seeds – 1 tbsp

cumin seeds – 1 tbsp

Asafoetida

Onion – 1 chopped

Turmeric – 1 tbsp

Chilli Powder – 1 tbsp

Salt – as needed

Coriander – 2-3 leaves

Oil – For Frying
Procedure –
Take a bowl and mix all seeds i.e. fennel, mustard, fenugreek, cumin and asafoetida one by one.

Heat oil in another pan and add seed mixture to it.

When they sizzle, add onions and saute till it turns pink.

Now, add paneer, turmeric, chilli powder and stir for 2-3 minutes.

Add coriander, salt and bring to a boil.

Served with fresh coconut water or lime juice.
Stuffed Paneer Paratha –
(Duration 10 minutes)
Ingredients –
Cottage cheese – 250g crumbled
Green chilli – 3 (finely chopped)
Coriander leaves – 2 tbsp (finely chopped)
Onion – ¼ cup (finely chopped)
Salt – to taste
For the dough –
Wheat flour – 1 cup (16 tbsp)
Water – ¼ cup
Oil – ¼ cup
Wheat flour (for dusting) – ¼ cup (4 tbsp)
Procedure –
For the dough – In a large bowl, mix flour and water to make a soft pliable dough. Set aside.

In a medium bowl, mix together cottage cheese, green chilli, coriander, onion and salt. Divide the mixture into 8 portions and set aside.

Make 8 equal sized balls out of the dough.

Dust the dough with flour and roll into a medium circle and place the cheese stuffing and pinch all the edges towards the centre.

Flatten the dough with hands, and roll out to thick parathas.

Heat flat skillet and drizzle some oil. Cook the parathas on both sides over medium flame.
Serving –
Serve paneer parathas with some raita.
Enjoy the recipes and relish the taste.