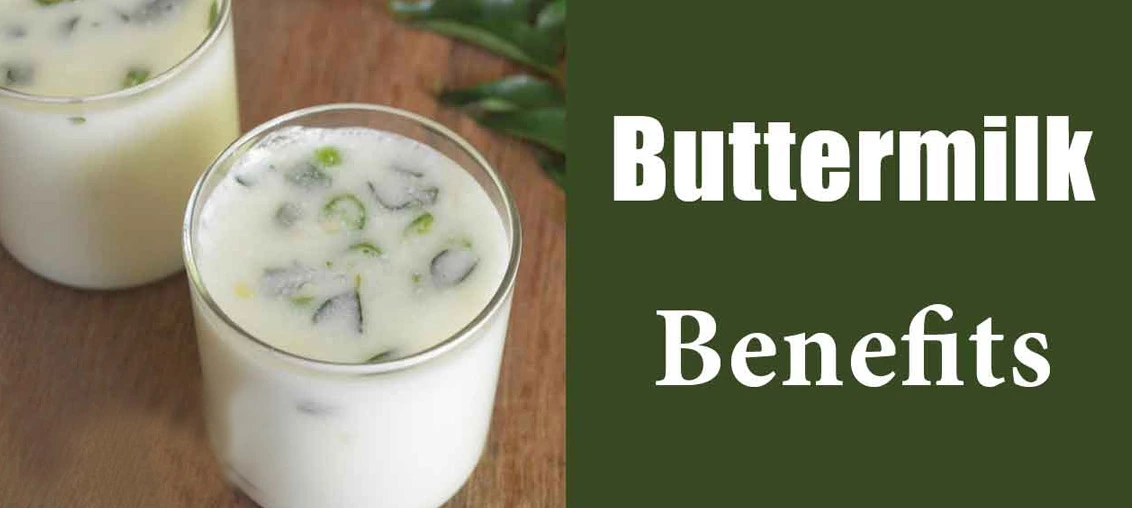 There's nothing better than a tall glass of buttermilk on a hot summer day! In countries like India, buttermilk has traditionally been a staple drink. Buttermilk also features in marinades and soda bread in many American households. And of course, your favourite pancakes just wouldn't be the same without a splash of buttermilk.
We all know, milk is one of the finest sources of nutrition gain. The products made up of milk are healthier for you. Buttermilk is one of those which is very healthy for people above 40 years. Let's look at what are the benefits of buttermilk which made it healthy for you?
Surprising Health Benefits Of Buttermilk –
Flushes out fat
Drinking buttermilk is a great way to end an especially fatty meal. The drink washes down the fat that usually coats the inner walls of the stomach and intestines after an oily meal. Buttermilk helps improve digestion and reduces gas buildup after a rich meal. Adding ginger, cinnamon, nutmeg, pepper and other spices to the drink also boosts the drink's ability to improve digestion.
Protects from dehydration
Although we recommend sticking to plain water for dehydration, chaas make a great alternative to plain water. Buttermilk contains salt, curd, water, and spices. All these nutrients keep the body healthy by preventing dehydration. The low salt content of chaas restores lost electrolytes in the system. Curd provides calcium that also rebalances the system's acid-base level to prevent dehydration. Buttermilk makes a satisfying drink, especially during the summer season.
Assists in lowering cholesterol
A natural remedy for lowering and controlling blood cholesterol is buttermilk. Its constituents are very effective in keeping cholesterol under check. Even Ayurveda texts have extolled the virtues of consuming buttermilk for good health.
Decreases blood pressure
It is one of the finest benefits of buttermilk. There are substances found in buttermilk, which studies indicate have an abundance of bioactive proteins. These help lower cholesterol and are antibacterial and antiviral in nature. Drinking buttermilk regularly has shown to lower blood pressure significantly.
Fights against ulcers
Several case studies have been documented to prove that drinking buttermilk is a natural therapy for ulcers. As buttermilk helps neutralize acids in the stomach by coating the stomach lining, it prevents heartburn and keeps the acids from moving up into the oesophagus. This drink is great for people suffering from GERD. Overall, because of its cooling effect, ulcers to are prevented from erupting.
Rich in Riboflavin
Add buttermilk to your diet and you'll also get more riboflavin or vitamin B-2. Your body uses riboflavin to activate enzymes in your cells, which helps drive energy production. Riboflavin also supports liver function which helps detoxify your body and helps you make uric acid, a strong antioxidant.
Each cup of buttermilk boasts 377 micrograms of riboflavin. This corresponds to 29 percent of the daily riboflavin needs for men and 34 percent for women. It falls a little short of the riboflavin content of low-fat milk, which provides 451 micrograms.
Eases Wrinkles
Did you know that buttermilk is also good for your skin? Buttermilk contains lactic acid. This alpha-hydroxy acid can smoothen skin and eases wrinkles and fine lines.
How to use – Simply apply buttermilk on your face and neck, leave it on for a while and rinse off. If you're not looking for a full body treatment, draw a warm bath, add 2 to 4 cups of buttermilk to it, and settle in for about 20 minutes for a relaxing soak. Then scrub your skin with a washcloth using circular motions and rinse off for smooth skin.
Buy Buttermilk Online
Now one can buy buttermilk online as there are various online grocery shops available. For all Mumbaikars out there, Awesome Dairy is the foremost destination for all the dairy products. They sell most of the varieties of different brands such as Amul, Gowardhan, Nutrilite etc. One can choose from the numerous varieties of buttermilk consisting masala, spiced etc. They also have pouches and size varieties ranging from 10 gm to 500 gm. One can also get a monthly subscription from them instead of buying milk products every day.