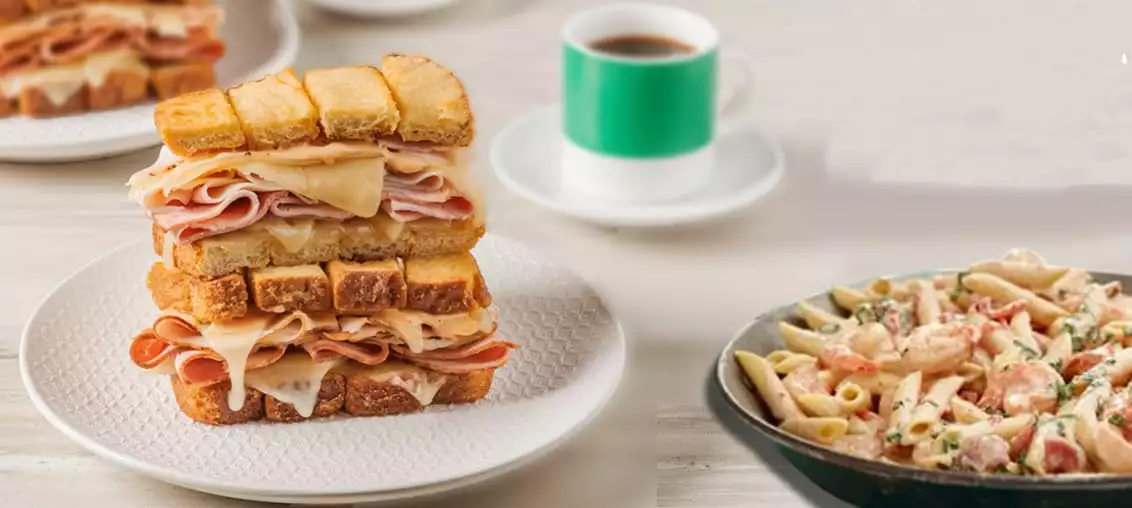 Cheese is the one ingredient which is used worldwide and also loved by over half the world's population. We love cooking with cheese and it's no secret that cheese is a wonderfully delicious component. Do you know? There are about 2,000 varieties of cheese are available all over the world. Hence, just to give a perfect start to your day, here we share easy and quick cheese recipes for breakfast.
Monte Cristo Sandwich
Duration – 15 minutes
Ingredients –
3 tbsp Dijon mustard

6 count boxes frozen french toast

9 pound thinly sliced turkey

9 pound thinly sliced ham

12 slices swiss cheese

3 tbsp (mayonnaise)

6 tbsp butter (at room temperature)
Procedure –
Heat oven to 400° F.

Spread the mustard on 6 pieces of the French toast. Divide the ham and turkey evenly among them and top each with 2 slices of the cheese.

Spread the remaining 6 pieces of French toast with the mayonnaise (if desired) and sandwich together.

Heat a large skillet over medium heat. Spread ½ tablespoon of the butter on the top and bottom of each sandwich.

Cook 3 sandwiches in the skillet until brown, 2 minutes per side. Transfer to a baking sheet. Repeat with the remaining sandwiches.

Transfer to oven and bake until the cheese is melted and the toast is heated through about 4 minutes.
Four Cheese Pasta
Ingredients –
1 cup macaroni(pasta)

12 cherry tomatoes

1/2 cup milk

1 sprig rosemary

1 sprig thyme

1 spring onion

2 cloves garlic

10 gms chopped onions

10 gms chopped leeks

10 gms chopped celery

1 bay leaf

60 gms butter

30 gms flour

1 pinch white pepper

1/2 tsp nutmeg grated

15 gms parmesan cheese

20 gms cheddar cheese

15 gms brie cheese

20 gms swiss Emmental cheese

Pinch of chilli flakes
Procedure –
Boil the macaroni in salted water.

After boiling strain and put in a bowl with olive oil.

Melt the butter with flour in a saucepan along with olive oil.

Boil some milk with rosemary, thyme, bay leaf and spring onions.

Strain the milk in with the flour and butter, whisking slowly.

Make sure you keep stirring the sauce.

Season with salt and pepper.

Once the sauce coats the back of your spoon means it's done.

Grate parmesan, add cheddar, some chunks of brie.

Put in the sauce and mix it in.

In a hot pan add some sliced garlic, cherry tomatoes, chilli flakes and a pinch of salt.

Saute well and deglaze with a touch of white wine.

Mix the macaroni with the sauce and serve.
Cheese & Pesto Eggplant
Ingredients –
1 medium-sized eggplant, cut into thin slices and lightly salted

1 small bowl Parmesan or cheddar cheese (You can mix both), grated

2 eggs, whisked

2 tbsp olive oil

1 medium bowl of pesto sauce

10-13 sliced olives
For the pesto sauce –
1 big tbsp pine nuts

1/2 tbsp garlic paste

1/2 cup olive oil

2 1/2 cups fresh basil leaves

Salt and pepper

2 Tbsp Parmesan cheese

1 big tbsp butter
Note – Eggplant laced with Parmesan cheese and baked in pesto with olives.
Procedure –
Cut the eggplant rounds into triangles or keep whole.

Dip each eggplant in egg wash and then press on to the cheese (only on one side).

Heat the olive oil and lightly place each eggplant with cheese till slightly brown.

Now layer the eggplant in a casserole and top with pesto. Sprinkle the thinly sliced olives on top. You can make a few layers one on top of each other.

Bake in the oven till pesto is warm and serve.
For the Pesto Sauce –
Blend all ingredients in the given order.

Start with pine nuts and garlic. Then add basil and olive oil. Blend. Add pepper and salt. Lastly, add butter and Parmesan and give a final blend.
Try these recipes and relish the taste.